MATT ADAM DEVELOPMENT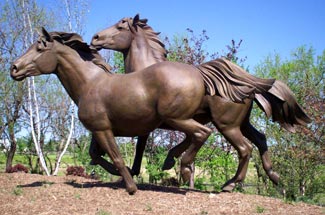 Kansas City-based developer Matt Adam retained Boody Fine Arts in 2000 to manage the art component for his first Overland Park residential development called GlenEagle. As art consultant, we coordinated the selection process, assisted with contract negotiations, and managed the site preparation between the artist, landscape architects (HNTB), and developer.

Installed in the Fall of 2001 this neighborhood features a commissioned, double life-size bronze eagle by Sandy Scott, named GlenEagle after the development. The majestic eagle's wingspan is over 19' wide and immediately distinguishes the entrance from neighboring developments.

Scott's work is in numerous public settings as well as art museums. A few of the public museums and businesses collecting Sandy's work are: The National Museum of Wildlife Art, Jackson, Wyoming; R.W. Norton Museum, Shreveport, Louisiana; Trammel Crow Corporation, Chicago, Illinois; The United States Military Academy, WestPoint, New York; and the Gilcrease Museum, Tulsa, Oklahoma.

During the eagle's installation process Matt Adam began discussions about a next project years off from fruition. In 2005 Matt Adam again retained Boody Fine Arts as art consultant for the second residential development, Mills Farm. Our company coordinated the artist selection process with Pat Kennedy commissioned to create the 320-acre-neighborhood's entrance consisting of nine wild horses galloping through a pasture at 1 1/4 life-size scale.

Using a phased installation, Kennedy's first two horses were installed in the fall of 2006 as home presales began. Then four horses were installed during the spring of 2007 coinciding with the neighborhood grand opening. Finally, a mare and two colts were installed in the summer of 2008 on a roundabout, completing the commission of Horses Along the Way.

Pat Kennedy's work can be found in a number of city collections and private collectors. For example, Kennedy created the Lewis and Clark monuments for the City of Sioux City, Iowa, and the City of St. Charles, Missouri (both are listed projects on the client page).
GLENEAGLE GALLERY

HORSES ALONG THE WAY GALLERY