METLIFE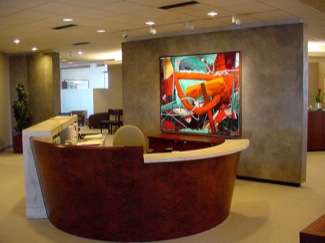 In the 1990s General American Life Insurance (now MetLife) added one million square feet onto their already existing offices in St. Louis, Missouri. Boody Fine Arts was retained by General American and brought the approach of utilizing large-scale art as focal points within important areas.

To accomplish this approach, Boody Fine Arts and General American reviewed artists' images from across the country to appropriately choose more than 100 large-scale works of art serving as focal points for main office areas such as the lobby, main corridors, etc. The client's existing collection of more than 300 small prints, drawings and posters were dispersed where appropriate.

Our firm returned periodically to General American's offices to rotate artworks creating the illusion of a fresh, new collection every time.

General American again retained Boody Fine Arts to coordinate art collections for each of their then subsidiaries' [GenMark (absorbed by MetLife) and Reinsurance Group of America's] 100,000 square foot offices.
IMAGE GALLERY