ST. CHARLES COUNTY, MISSOURI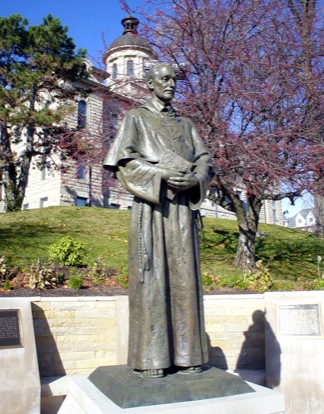 Sculptor Blair Buswell's impressive larger-than-life-size monument is a portrait of San Carlos (Saint Charles) Borromeo, a 16th Century Archbishop of Milan. This monument stands on the grounds of Missouri's first State Capital (now the Executive Building for the County of St. Charles) and is near the City's historic Main Street. Retained by the County of St. Charles, Missouri, in 2003, Boody Fine Arts managed this commissioned project.

The city and county of St. Charles, Missouri, are named after St. Charles Borromeo, honoring the reputation of a great man. He was a patron of learning and the arts, loved as a benevolent churchman, and widely known for his service and deep compassion for the poor. St. Charles died in 1584, weakened by the plague in his care of the sick and was canonized in 1610.

Blair Buswell has completed numerous commissions and limited editions. His figurative works are displayed and appreciated in museums, private collections, college campuses and sports complexes throughout the nation. Blair's sculptures acknowledge the power and grace of the human figure. The realism of his work displays a devotion to detail and accuracy, while capturing the essence of his subject. Other projects by Blair of note are: 9' Mickey Mantle sculpture located in Bricktown, Oklahoma City; 8' Oscar Robertson sculpture at the University of Cincinnati, Ohio; 7' foot sculpture of golf legend Jack Nicklaus in Augusta, Georgia; 7 1/2' sculpture of Charlton Heston as "Will Penny" for the National Cowboy and Western Heritage Museum; and more than 30 busts for the Pro Football Hall of Fame.
IMAGE GALLERY